We're thrilled to release a very useful vBulletin 5 plugin that will revolutionize the way you manage and troubleshoot user-related issues on your forum! Introducing the
Admin View As User
mod – a powerful tool designed to empower forum administrators like never before.
What is the Admin View As User
​
plugin?
The Admin View As User modification is a game-changing addition to your vBulletin 5 arsenal. It grants you the capability to seamlessly step into the shoes of any user on your forum, allowing you to experience their interactions, identify potential issues, and perform accurate tests. Whether you're addressing a glitch, verifying permissions, or understanding a user's perspective, this plugin opens up a whole new realm of possibilities.
Key Features:
🔑
Admin-User Switch:
Easily switch your identity to any registered user on your forum with just a few clicks. Experience your forum through their eyes and swiftly diagnose problems.
🔍
Issue Reproduction:
Walk in the shoes of your users to replicate issues they're encountering. Streamline troubleshooting and cut down resolution time significantly.
📅
Testing Environment:
Create a controlled testing environment by simulating user interactions. Safely test new features, permissions, or changes from an authentic user standpoint.
💬
Enhanced Support:
Provide direct assistance by seeing the user's view firsthand. Effectively communicate solutions and guide users through steps to resolve their problems.
🌍
Internationalization:
You can translate the phrases used by this addon in the Phrase Manager in AdminCP. You can also customized the email template used.​
⚙️
Configurability
: Choose which user(s) or usergroup(s) are allowed to view a user. You can also choose which user(s) or usergroup(s) cannot be viewed by admins. You can also choose to send a notification email to the user being viewed or not.
​​
Why Invest in the Admin View As User
​
p
​
lugin?
As a forum owner, you understand the value of a seamless user experience. This addon empowers you to deliver just that by offering unparalleled insight and control. Here's why investing in this plugin is a game-changer:
Efficiency: Save time and resources by diagnosing and addressing issues accurately on the first attempt.
Quality Support: Provide exceptional support by understanding user concerns from their perspective.
Confidence in Changes: Make informed decisions when implementing new features or making adjustments, knowing how they will impact your users.
Customer Satisfaction: Ensure your users' voices are heard and their concerns are resolved promptly.
How Does It Work?
Login to the forum using an account that's allowed to view another user.
View the profile of a user that's allowed to be viewed by admins.
Click the "View as" button.


A confirmation dialog popup will appear asking you to confirm the action and to inform you about possible privacy issues of performing the action. Click the "Yes, I Accept Responsibility" button in the confirmation dialog. If sending email is enabled, you will also be required to enter a reason and the user will be notified via email that their account is being viewed.

​
A success dialog popup will be displayed indicating you are viewing as that user. A red bar at the bottom is also displayed on every page you visit to remind you that you are acting on behalf of the user and to allow you to switch back to your original account using the Exit View As button. It will also show the updated username displayed at the upper right corner of each page.




An email will be sent to the user (if Send Email Notification option is enabled) containing the entered reason. The email will be sent with high priority without waiting for the existing email queue to be processed first. It is using the same priority used when sending password reset emails.
​
​​
If you have any questions or need assistance, feel free to reach out. We're here to help you take your forum administration to the next level!
Compatibility:
Compatible with vBulletin 5 (self-hosted) only.
Compatible with PHP 8+.
Not compatible with vBCloud version.
Demo: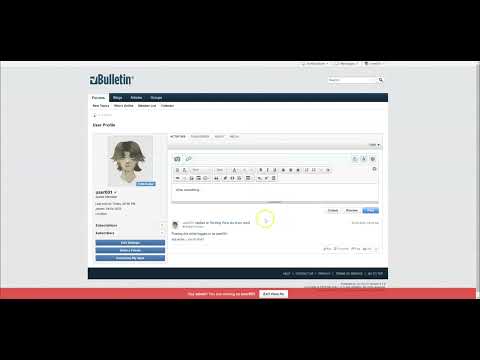 Price:
$50
(Branding-free)​
​​​​
​