Tired of spam bots or humans posting spammy links? Worry no more! This Stop Links in Posts mod allows you to prevent users from posting external links based on their usergroup and/or post count.
This plugin is very useful for forums that want to reduce spam and unwanted links on their site. It helps you to control the quality and relevance of the content posted by your users. It also enhances the user experience and makes your forum more secure and trustworthy.
Features:
Can easily enable or disable mod without entirely disabling or uninstalling the mod.
Can validate users posting external links by usergroup(s) only, post count only, either or both. For example, you could easily target users if they belong to Registered Usergroup, or if post count is less than 6, either or both.
Can either prevent saving of posts with external links and display validation error, or allow posts to be saved but automatically place it under moderation.
Only external links are detected and internal links (must be same domain as forum) are allowed.
Also checks Link and Video content types.
Validation error messages uses Phrase Manager so it can be re-worded or translated to another languange.
Uses PHP hooks. This means that link detection is done on the server-side which is good because even if user is using an automated tool (which spam bots usually use) to post spammy links, the server will still be able to catch the error and prevent the posting or moderate the post.
Uses Product XML system and requires file upload of the mod package to the server.
See screenshot of the AdminCP settings of the mod below:
Compatibility:
For vB 5.5.0 and older, an existing PHP file in the vB5 codebase needs to be edited to manually add the needed missing PHP hooks that will be added in vB 5.5.1. Once vB 5.5.1 (which is the upcoming version at the time of this writing) is released, editing is no longer needed. A step-by-step process to edit the file is included in the installation instructions included in the package.
For vB 5.6.6 and older, it also requires editing existing PHP file for v1.3 of this mod until the vB bug (https://tracker.vbulletin.com/vbulle...sues/VBV-21050) which I opened is resolved. Please vote for it.
For vB 5.6.8 and newer, the above vB bug has been fixed so PHP edit is no longer needed.
Compatible with vB5 (self-hosted)
Compatible with vB6 (self-hosted). Requires a small PHP tweak in

/core/packages/stoplinksinposts/product.php

by changing the vB Max Version variable from '5.9.9' to '6.9.9'.

Not compatible with vBCloud.
Demo:
This mod is installed on this site vbmods.rocks. Members of this site who have 5 posts or less will not be able to post external links. You can also watch the video screencast below to see the mod in action.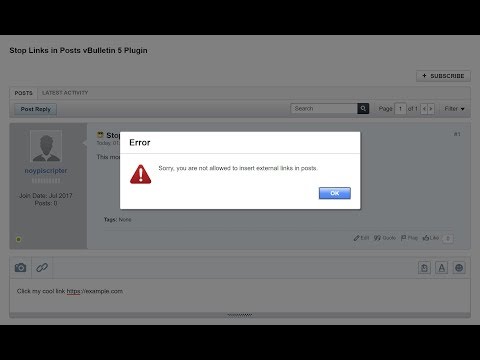 Version History:
v1.4
- Fix for detecting links when posting comments without requiring to edit a PHP file. This requires vB 5.6.8 or newer. Thanks to
ayjayef
for testing the fix.
v1.3
- Fixed an issue where links were not being detected when posting comments. Requires editing a PHP file for vB 5.6.7 and older. Thanks to
ayjayef
for reporting this bug.
v1.2
- Fixed an issue where if the mod is configured to moderate posts, subscribers of the topic or channel where the offending post belongs to, were receiving message center and email notifications of new posts even if the post was automatically placed in moderation queue. Thanks to
ayjayef
for reporting this bug.
v1.1
- Fixed an issue where some external links were not being detected as external thereby allowing posts with external links to be posted.
v1.0
- Initial version
Price 1:
$40
(with vbmods.rocks branding in the footer)
Price 2:

$65
($40 base price + $25 branding-free)