This is a much-requested vB5 mod to display Likes Summary for every post instead of the default functionality where it just displays the number of users who liked a post and you have to click on it to show the list of users.
This plugin is very useful for forums that want to encourage user engagement and appreciation. It helps users to see who liked their posts and how popular their posts are. It also enhances the user experience and makes your forum more social and interactive.
Features:
Configurable mod options in AdminCP:

Set the default number of visible users in the Likes Summary before it says "and XX others liked this". Defaults to 3.
Set the Likes Summary block to display above the post signature or post footer.
Set the Like Summary block to display full-width or not.
Set the avatar of the users in the Like Summary to show or not.
Set avatar to round or square.



Updates the Likes Summary in real time as you like or unlike a post. Or even when you edit and save a post.
Obeys the "Can See Who Liked a Post" permission which means that if a user has no such permission as defined in the Usergroup Permissions, it will not display the names of users who like a post.
Obeys the "Username HTML Markup" option which means if a user in the Likes Summary belongs to a usergroup with this option set, his username in the summary will be rendered with that markup/style.
Uses Phrase Manager to allow customization of the phrases used in the Likes Summary.
Uses plugin system which means this mod is preserved and not touched during forum upgrade.
Small performance impact on perceived page load performance because the Likes Summary is dynamically fetched after the page has loaded.
Demo:
This mod is installed on this site to showcase how it looks and how it works. You can also watch the video screencast below: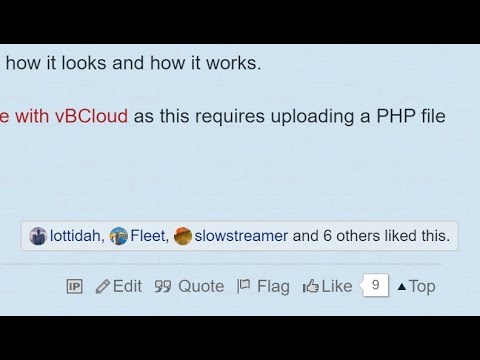 Compatibility:
vB5 (self-hosted only).
Not compatible with vBCloud
as this requires uploading a PHP file to the server.
Price 1:
$20
(with vbmods.rocks branding in the footer)
Price 2:

$45
($20 base price + $25 branding-free)