Make your vBulletin forum conversations alive and fun by allowing users to quickly insert animated GIFs from GIPHY.com, the top online source for the best and newest animated GIFs.
No more combing the internet to find the right GIF to post and then hoping it has code to embed using [img] BB Code. No more saving GIFs to the desktop and then uploading them manually to your posts. Now you can have complete access to GIPHY's wide catalog of GIFs directly from your forum. vBulletin 5 forum conversations have never been this much fun with this GIPHY mod!
Features:
Integrated with GIPHY Search API. Search for GIFs right within the vB editor.
Infinite or continuous scrolling to load the next set of GIFs until there no more GIFs to show.
Images are not uploaded to your server but are hosted externally by GIPHY.com and embedded into the posts. So no need to worry about server storage capacity issues.
No template edits required. Just upload the product XML file and the GIPHY script and images to your server.
Uses Style Variables for some of the styles used. For example, to use a different GIPHY attribution icon for Dark themes, you'd simply change the image path in a style variable. Or to change text color for GIPHY-generated error messages, then you'd also change it in a style variable.
Uses Phrase system. You can translate the phrases used in the mod.
Can specify which usergroups can use this GIPHY feature.
Easily configurable mod settings. See sample screenshot below:
This mod requires a GIPHY Developer account and GIPHY API key. Sign up for a free account at
https://developers.giphy.com
and then create an app to obtain an APi key.
Watch demo video screencast of this mod below: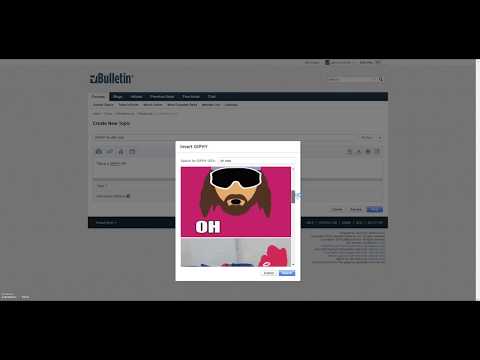 Compatibility:
Compatible with vB5 and 6 (self-hosted)
Not compatible with vBCloud
So what are you waiting for? Purchase this mod...
Price 1:
$35
(with vbmods.rocks branding in the footer)
Price 2:

$60
($35 base price + $25 branding-free)