This vBulletin 5 modification displays user's social network profile links in postbit.
Features:
Admins have ability to choose from up to 20 social networks and can selectively choose which social network icons to enable. Available social networks are:

Facebook
Twitter
Instagram
Skype
YouTube
Pinterest
Vimeo
LinkedIn
Snapchat
Twitch
WhatsApp
Paypal.Me
Patreon
Github
Code Pen
Medium
Reddit
Slack
TeamSpeak
SoundCloud
Discord
Tiktok

Uses existing Profile Fields feature to enable users to fill out the social network profile links in their User Settings. Profile fields not set by users will not show up in postbit.
Uses Font Awesome icons, the most popular font and icon toolkit based on CSS.
Uses Product XML to install this mod. No editing of templates or source code necessary.
Easily configurable settings in AdminCP:


Demo:
Please see my postbit on this site. If you are a member of this forum, you could add your own social networks in your User Setttings and they will show up in your postbit.
You can also watch the below screencast demo: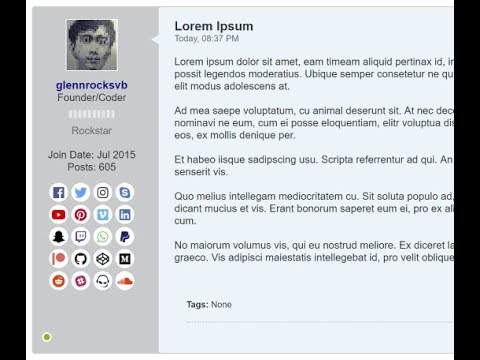 Version History:
v1.1
Added Tiktok and Discord icons.
PHP 8 compatibility
Upgraded Font Awesome Icons from 5.6.3 to 6.1.1.
v1.0
Price 1:
$35
(with vbmods.rocks branding in the footer)
Price 2:

$60
($35 base price + $25 branding-free)